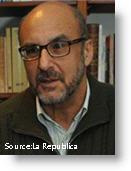 The second round vote that will determine Peru's next president will be determined largely on the electorate from Lima and northern Peru, according to historian and political analyst Antonio Zapata.
The run-off vote between leftist Ollanta Humala of the Gana Peru party and right-wing Congresswoman Keiko Fujimori, the daughter of imprisoned ex-President Alberto Fujimori, is scheduled for June 5. The winner will take office on July 28.
The capital city of Lima and the country's north will be key to winning the election because of their heavier concentration of population, Zapata told Ideeleradio. They are also important because the electorate in these areas largely voted for candidates Pedro Pablo Kuczynski, Alejandro Toledo and Luis Castañeda in the first-round vote.
"The election is going to be defined in Lima and the north," he said.
One of the main topics in the second round of the campaign will be Fujimori's promotion of economic growth versus Humala's promises for economic growth with redistribution, according to Zapata.
Fujimori will try to capture votes from the electorate that is concerned Humala will upset the current economic system, which has experienced red-hot macroeconomic growth over the last decade.
"[Keiko will say] that everything will be better with her than with [Humala]. This will be her discourse and with this she is going to grow in some sectors that prefer growth to redistribution," Zapata said. "While Ollanta is going to underscore… that with him there will be growth with redistribution."
Many of Humala's supporters in the first round came from poorer and rural areas where the economic benefits of Peru's economic growth have not had much impact. However, Fujimori had a strong base of support from those sectors as well, sectors that benefited from the welfarism programs of her father's administration.
Peru's wealthiest socio-economic sectors (sectors A and B) make up only about 10-12 percent of the electorate. The poorer sectors (C, D and E) make up the remainder.
"The person who wins this election is going to win sectors C, D and E," Zapata said.