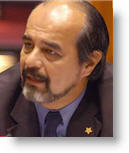 Congressman Mauricio Mulder, a stalwart of Peru's Apra party, said Tuesday that it was a "grave error" that former Lima mayor Luis Castañeda did not play a more public role in the recall vote to oust the city's current mayor.
Mulder, who was a clear leader in the Apra support for the referendum, said there was talk about Castañeda having a public role in the recall, but that nothing ever happened, according to daily Peru.21.
Apra is led by twice-former President Alan Garcia. The party's support for the recall has been seen as an attempt to boost the party's profile after loosing most of its seats in Congress, and to position Garcia for another run at the presidency in 2016.
Apra's open support, however, actually lowered the poll numbers for the recall campaign. Beset by investigations into corruption of most of its former cabinet ministers, and also of Garcia himself, the party has lost its luster beyond its card-carrying members.
But Castañeda himself is also a polarizing figure. Though widely approved as mayor, there are questions on several over-budget city projects and particularly on the 'Comunicore' investigation of an irregular S/.34mn-plus debt payment, a court investigation in which he has so far managed to not be included.       
The referendum on Sunday to oust Lima Mayor Susana Villaran was unsuccessful —approximately 48% to Villaran's 51%— as a result of the support of sports and entertainment figures to attract the popular vote, and the key support of the centre-right politicians —Lourdes Flores, the PPC party and Pedro Pablo Kuzcynski—to woo the middle and higher income voters.
It was well-known that Castañeda was a central figure in driving the campaign to remove Villaran, although he never appeared publicly to do so until near the deadline. But just before residents went to the polls, a recording of Castañeda organizing the final days of the recall campaign was leaked to journalist Rosa Maria Palacios, who broadcast it on her program on ATV.
"It was a grave error that Luis Castaneda didn't show his face," said Mulder. 
"Luis Castañeda was [in the meetings] and it was discussed there, at least I proposed it, the need for more active participation, at least to go out and say some things. [He responded] that he was calculating the move. It took him a long time to calculate it, and that was a grave mistake."
We'll never know.  But Castañeda's son, Luis Castañeda Pardo, who was a member of Villaran's city council, was ousted by the recall, along with some 19 other council members.