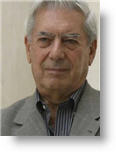 Mario Vargas Llosa, Peru's Nobel laureate, said Monday that he does not support a humanitarian pardon for ex-President Alberto Fujimori.
Fujimori, 74, is serving a 25 year prison sentence for human rights and corruption crimes. His family has requested a pardon from President Ollanta Humala citing the former president's poor health. He has undergone surgery several times in recent years to treat a tumor growth in his mouth, and is said to be suffering from depression. 
However, Vargas Llosa, who ran against Fujimori in the 1990 presidential campaign, said that he doesn't believe the former president's health warrants his early release from prison.
"He is as healthy as you or I," Vargas Llosa told reporters Monday. "I don't think there is a Peruvian who is taken care of and watched over as well by doctors as is ex-President Fujimori."
Despite ealier claims by Fujimori family and supporters, as well as his former health minister, the national cancer institute, INEN, has denied that the tumor is cancerous or that Fujimori's life is in any way threatened.
Peru's best known author said that he hopes President Humala doesn't "dirty" his administration by granting a pardon to Fujimori.
"The former dictator hasn't even shown repentance for his crimes or asked for forgiveness from the victims," Vargas Llosa said.