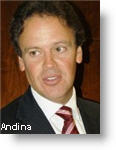 The head of the government's National Center for Strategic Planning, Ceplan, said Tuesday that Peru could lead global economic growth until 2050 if it improves its productivity, according to state news agency Andina.
Mariano Paz-Soldan based his statement on a report by HSBC Global Research that named Peru as one of 26 economies that could lead growth during the next 38 years.
"This is a real opportunity to guarantee and maintain this economic growth," Paz-Soldan said.
Peru has posted robust growth during the past decade, thanks to fiscal stability and a commodities boom that has attracted private-sector investments. Peru's economy has been one of the fastest growing in Latin America, expanding 8.8 percent in 2010 and 6.9 percent in 2011. It will likely grow slightly above 6 percent this year and next year, economists say.
Despite the progress, Peru still has several challenges to maintain growth.
Economy and Finance Minister Luis Miguel Castilla said this week that the country probably won't be able to maintain growth above 6 percent per year in the future if it doesn't improve productivity.
Social unrest related to the development of large-scale mining projects could also hurt the investment climate. Indeed, numerous mining projects have already been postponed or cancelled due to opposition from residents in the Andean highlands.
Also, the inflow of these investments could also come to a quick halt if there is a crisis in the global economy, including a "hard-landing" for China, where much of Peru's commodities are in demand.
In the longer term, economists also point to much needed reforms to improve Peru's uninspiring public education system, considered one of the worst in the region.
Ceplan's Paz-Soldan recognizes the challenges for Peru to stay on top as one of the world's top economic performers. "We have several challenges: improving the competitiveness and productivity, closing social gaps, improving institutional quality and applying a shock to the public sector," he said.
Ceplan is responsible for designing strategies and evaluating policy priorities for Peru's government in the upcoming decades.