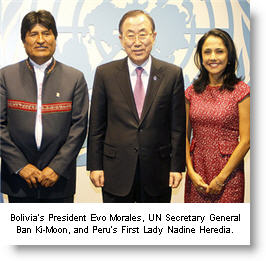 The wife of Peru's President Ollanta Humala, Nadine Heredia, was appointed a FAO special ambassador this week, together with Bolivia's President Evo Morales, for the International Year of the Quinoa 2013 —IYQ 2013— during an assembly at the United Nations headquarters in New York.
A series of activities were held, promoting the Andean grain as the legacy of 5000 years of Andean farming practices and a potential contribution to the fight against world hunger and malnutrition.
 In her acceptance of the appointment at the United Nations, Heredia, said her task this year is to promote quinoa, the "golden grain born in the Andes," as a viable and effective source for eradicating hunger and malnutrition, and at the same time give recognition to the thousands of families who work in the fields growing quinoa  
Heredia, who is a member of the lead group of the UN's Scaling Up Nutrition network, also said that one of the challenges this year is to provide training for Andean women who plant, weed and harvest the quinoa, so that they can improve their crops and have an entry into the market under better conditions.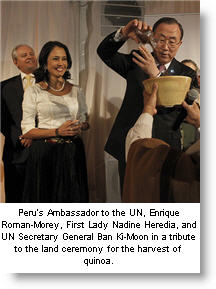 Later on Wednesday, an Andean ceremony portraying the paying of a tribute to the earth for the quinoa harvest was attended by UN Secretary General Ban Ki-Moon and Heredia.
Quinoa is the only plant food that contains all the essential amino acids, trace elements and vitamins and contains no gluten. Essential amino acids are found in the nucleus of the grain, unlike other cereals, like rice or wheat, in which they are located in their exosperm or hull.
 The crop has a remarkable adaptability to different agro-ecological regions. It can grow at relative humidity from 40% to 88%, and withstands temperatures from -4 ° C to 38 ° C. It is a highly water efficient plant, is tolerant and resistant to lack of soil moisture, and produces acceptable yields with rainfall of 100 to 200 mm.