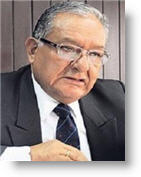 Peru's anti-terrorism prosecutor, Julio Galindo, says that his office is investigating the sources of financing to rebel groups from illegal logging and illicit mining, state news agency Andina reported.
Splinter groups of the Shining Path rebels are known to profit from Peru's expanding cocaine trade, providing armed support for traffickers and producers. Other major illicit activities in Peru's montane forest and lower jungle regions are illegal logging and illegal gold mining.
"Terrorism is financed by drug trafficking, but also by illegal logging, the clandestine extraction of minerals, and those who are laundering the money are the terrorists, not the drug traffickers," Galindo said.  He cite the example of the recent impounding of properties owned by the Quispe Palomino brothers, leaders of Shining Path in the VRAEM, which have been valued at betwen $100 and $150 million.
"The issue of money laundering is very technical, and has to be followed by specialists, who are the accountants," he said. "We are working on this, slowly, very tediously, very technical, with input from intelligence."