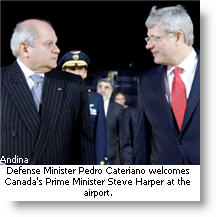 Canadian Prime Minister Stephen Harper is to meet President Ollanta Humala at the government palace on Wednesday, in the Canadian official's first official visit to Peru.
Harper is traveling with Canada's Foreign Relations Minister for the Americas, Diane Ablonczy, Canadian legislators and a group of executives.
The officials are expected to discuss economic, education and defense ties, according to a statement from the Canadian Embassy in Peru.
Harper's visit to Peru is part of a three-day trip to South America that also includes a stopover in Colombia, where he will participate in the Pacific Alliance meeting. The Pacific Alliance includes Chile, Colombia, Mexico and Peru. Canada is an observer of the regional bloc.
Harper's trip to South America comes as his government faces a political crisis when a probe of the senate revealed that popular Conservative Senator Mike Duffy had claimed housing expenses that he was not entitled to do. The issue, which emerged in February, erupted last week when it was revealed that Harper's chief of staff, Nigel Wright, gave Duffy about $90,000 to repay the expenses, which breaks code of ethics rules and could have legal ramifications.
"Mr. Speaker, when the going gets tough, the tough get going … to Peru, apparently," the head of Peru's official opposition, NDP leader Thomas Mulcair, said Tuesday.