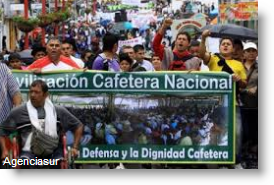 Peruvian coffee growers held a protest Wednesday, clashing with police in the central region of Chanchamayo, daily La Republica reported.
Small-holder coffee farmers are demanding more help from the government after a large percentage of their crops has been destroyed by the coffee leaf rust (Hemileia vastatrix), a fungus known across the continent as 'la roya.'
Peru, one of the top 10 global coffee producers, is known for its specialty organic coffees.  However, about 30 percent of this year's coffee crops in Peru have been destroyed by the coffee rust, which has also affected coffee growers in Central America, Mexico and Colombia.
The fungus —first identified in Sri Lanka and Java in the 19th century— is the most destructive coffee pathogen in the world and destroyed the coffee industry in Southeast Asia.   It reportedly reached Latin America, where coffee has been growing for a century without any problems, via Brazil in 1970.
President Ollanta Humala said the government was supporting the coffee growers by providing them 100 million soles (about $35 million) to combat the fungus. Part of the money is expected to be used to bring in new coffee plants that are more resistent to the fungus.
Still, the coffee producers took to the streets and blocked parts of the Carretera Central highway in Junin's high jungle region, located just east of the Andes. Local TV showed some of the protesters clashing with police.
"This problem won't be solved with acts of violence," Humala said.
The protest is the latest in a number of different demonstrations against the Humala administration. Over the past few weeks, protesters have included everyone from public sector nurses and doctors, to student activists and illegal gold miners.