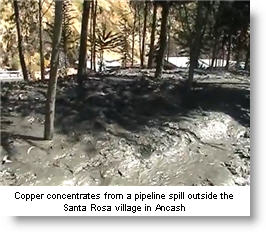 Peru's environmental watchdog has imposed 134 fines in the first seven months of this year, worth a total of more than 70 million soles (approximately $27 million), according to business daily Gestion.
The regulator, known as OEFA, said the fines were related to failure to comply with environmental regulations and commitments. OEFA said it increased the number of supervisions during the first seven months of 2012 to 837, a 40 percent increase over the same period last year.
OEFA said 136 supervisions corresponded to large-scale and medium-sized mining, while 234 supervisions were related to the oil and gas industry.
Twenty-seven supervisions were in the electricity sector and 54 supervisions were in the fishing industry, OEFA said.
OEFA was formed after the Environment Ministry was created in 2008. Officials within the regulator have said they are grossly underfunded.
OEFA is currently investigating a spill of copper concentrates from a minerals pipeline owned by polymetallic mining company Antamina in the region of Ancash. Osinergmin, the mining regulatory body, is also carrying out its own investigation.  The leak, at a valve station outside the village of Santa Rosa, in Bolognesi province, has affected the health of local residents near the breakage, according to media reports citing health officials.
Since the spill, on July 25, Antamina has reported it has fully cleaned up the area —3,000 square meters or approximately the size of half a city block— operating teams of workers on eight-hour shifts round the clock, and its recovery plans include planting new trees where required.  The clean-up and the health treatment for the population is being coordinated through a health commission formed by local and national authorities as well as the company and the local population.
The pipeline —302 km long— carries the copper and zinc concentrates from the huge Antamina mine, which lies at approximately 4,000 meters above sea level in the Cordillera Negra, to the company's own loading dock at the Pacific port of Huarmey.