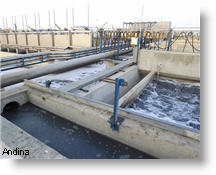 Operations at the Taboada waste water treatment plant began on Thursday, to boost the treatment of sewage water in Lima and the neighboring city of Callao.
Until now, most of the sewage water from Lima and Callao, with a population of over nine million, has been sent out to sea without any prior treatment or filtering — 20 cubic meters of raw sewage per second. 
The Taboada plant, located in Callao, is the largest water-treatment center in South America and will increase sewage treatment to 75% from the current 16%, daily La Republica reported.  It is to initially treat sewage from the 27 districts between Magdalena, on the Costa Verde, to Callao and the whole of north Lima and east Lima.  By the end of 2014, the treatment of the capital region's sewage will reach 100% with the startup of the La Chira plant in south Lima near Chorrillos.  Construction of the La Chira plant is to begin in March this year.
According Rossina Mache, general manager of Lima's state-owned water and sewage company Sedapal, no chemicals or disinfectants are used in the treatment process. After several stages of treatment, the water is being sent out to sea along a 3.5 km (2.1 mile) underground pipeline.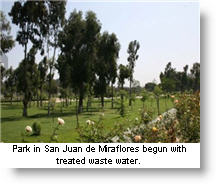 Mache said that future plans are to use the treated water for watering parks and gardens. 
In the early 1960s, President Fernando Belaunde's government began building water treatment plants, with the first series of oxidation pools at Km.16 on the South Panamerican Highway, in San Juan de Miraflores in south Lima, and used the treated water to plant groves of eucalyptus trees to create the Huayna Capac park. The project was to continue with treatment pools and create parks along the desert as far south as at least the beach community of San Bartolo, at Km.51 on the highway. The project was discontinued following the military coup in 1968.
The new Taboada plant is part of the government's effort to improve water services in Lima, the world's second largest desert city after Cairo.
The government announced this week plans to invest $3.3 billion on projects to provide running water to all residents in Lima and replace old, leaky pipes that waste water.