President-elect Ollanta Humala used Twitter to announce appointments to key positions in his cabinet, which include several known faces that will ease concerns among investors. His announcement was followed by a statement from his party headquarters in which he proposes a gradual process of changes "without the need to polarize the country."
"Moral superiority consists in not having a confrontational attitude, nor of revenge nor persecution, but instead of construction. The idea is to build the country with all Peruvians, even with those who did not vote for us," his statement said.
His appointments, which include three Peru Posible members following talks with former President Alejandro Toledo, include: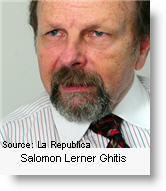 Premier: Salomon Lerner Ghitis, 65, who has been a strong supporter of Humala since the 2006 presidential campaign and led this year's campaign to its success. An industrial engineer and former banker with several investment interests, particularly in agriculture and cotton, he has also had a continuing interest in politics and became a leading member of the Transparencia election-watch association in 2001 following the collapse of the Fujimori regime.
Minister of Economy and Finance: Luis Miguel Castilla, as rumored last week.  He has doctoral and master's degrees from Johns Hopkins University, and was deputy finance minister in the Garcia administration until last week, when he resigned to accept his new post.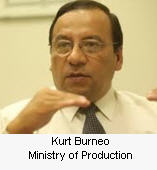 Ministry of Production: Kurt Burneo, who is a member of Peru Posible and former president of the Banco de la Nacion. He headed the economic plan for Alejandro Toledo's recent presidential campaign. He has been a key member of Humala's government plan team since the run-off election campaign.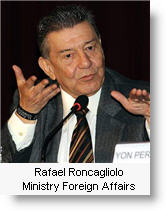 Ministry of Foreign Affairs: Rafael Roncagliolo, 67, a sociologist, journalist and professor at the Diplomatic Academy, once involved in editorial and publishing ventures, and a former contributor to Le Monde Diplomatique. He was also executive secretary of Transparencia, overseeing general elections during the Fujimori and Toledo governments.  Known as a man of the "modern left" and a strong supporter of consensus and agreements, he has been a consultant to the InterAmerican Institute of Human Rights, UNESCO, UNDP, the OAS, IADB, and the Washington, DC-based International Foundation for Electoral Systems and the National Democratic Institute for International Affairs.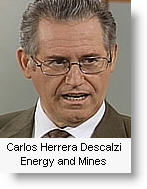 Ministry of Energy and Mines: Carlos Herrera Descalzi , who held this portfolio during the 2000-2001 transition government of President Valentín Paniagua.   He was most recently dean of the College of Engineers. Today he told Peru21 that he had already spoken to a number of mining companies and members of the national mining and petroleum society (SNMPE) who were willing to negotiate a windfall tax on their profits. The SNMPE, however, launched a TV campaign against windfall taxes during the Copa America game on Sunday, featuring former football star Carlos Oblitas.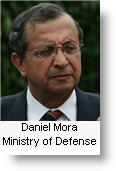 Minister of Defense:  Daniel Mora, a retired army general and a leader in the Peru Posible party, elected to Congress for the province of Callao.   He has served as head of the National Intelligence Council (CNI), and led the Peruvian team for the Declaration of Itamaraty, in the peace negotiations led by Brazil following the Peru-Ecuador (Cenepa) war in 1995.  His appointment has been sharply criticized by Fernando Rospigliosi, who served as minister of the Interior during the Toledo administration, recalling that Humala had said he would appoint civilians to the posts of Defense and Interior.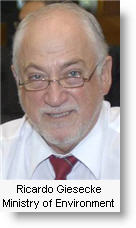 Ministry of the Environment:  Ricardo Giesecke, a physicist and specialist in environmental issues with links to a number of international environmental/water organizations, he has been deputy minister of Energy, coordinator for the Andean Community of Nations in Peru, and head of the Climate Change and Air Quality Unit of the National Environment Council (CONAM).
Ministry of Women and Social Development: Aida García-Naranjo, a spokeswoman for Gana Peru during the election campaign. A leading member of the Socialist Party, she is an active feminist and educator, and author of a number of books on women in Peru in urban and rural settings.  She has a long career in social outreach such as the Glass of Milk program, and has served on the Lima city council. Gana Peru is to propose to Congress that the Ministry be renamed to Development and Social Inclusion.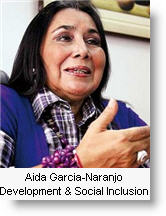 Humala has yet to announce his choices for the Ministries of Education, Foreign Trade and Tourism, Transport and Communication, Interior, Agriculture, Justice, Labor, Health, Housing, and Culture.
In a press conference later in the day, Humala said that he has no intention of applying the Venezuela model of government under Hugo Chavez, but rather the more moderate line of Brazil and Mexico.
Congressman Raul Castro of the center-right Popular Christian Party, said Humala's choice of cabinet members was "a magnificent symptom of the political continuity of the country and its governance."