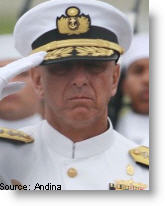 Vice-Admiral Jose Ernesto Cueto was officially installed Monday as the new head of the Joint Chiefs of Staff of the Armed Forces, a few days after President Ollanta Humala also appointed a new Defense minister.   
The change, one of several in the armed forces, was announced as "necessary" by President Humala.
Cueto will take over the head of the joint command from General Luis Ricardo Howell, who will retire after 38 years of service, Radio Programas reported. Howell had been at the head of the joint command since December 2010.
Cueto, 57, joined the navy in 1977 and was appointed general chief of staff of the navy in 2010.
Along with Cueto, changes have included the appointment of  Vice Admiral Carlos Tejada as the new commander general of the navy, while General Ricardo Moncada was named commander general of the army, succeeding General Victor Ripalda, who is to retire.
Moncada is a former military chief of the coca-growing Apurimac and Ene river valley, known as the VRAE. In addition to coca production, the VRAE is well-known for the presence of a group of Shining Path remnants, which have killed at least nine police officers and soldiers since April.
Humala said that the changes were "necessary."
"They were necessary changes due to the current situation, which has included changes in the cabinet," President Humala said.
The previous changes were made last week with the appointment of Gladys Treviño to the Ministry of Production, and with Jose Urquizo as the new Defense Minister and retired army general Wilver Calle as the new Minister of Interior.
Urquizo and Calle, both controversial appointments, followed the resignation of Alberto Otarola in Defense and Minister Daniel Lozada in Interior in the wake of an uproar over the handling by joint forces of an operation in the VRAE in April.