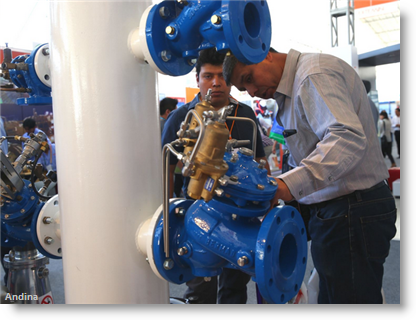 Peru's mining convention, Perumin 32, opened Monday in Arequipa with lower attendance, reflecting the tighter budgets of mining companies in the current downturn in minerals prices.
The event was inaugurated by the convention president, Buenaventura's CEO Roque Benavides, by Antonio Samaniego, president of Peru's Institute of Mining Engineers, and Victor Hugo Linares, rector of San Agustin University, which is host to the convention this year.
The initial guest speaker was the minister of Education, Jaime Saavedra, addressing this year's convention focus of Education and Jobs.
In his opening speech, Benavides called for ideas and proposals from those who are against the mining industry, to "share their ideas and proposals focused on the country's economic growth."
Other speakers at the week-long convention include Australia's minister for Natural Resources and Mines, Anthony Lynham, the president of Peru's science and technology council Concytec, Gisella Orjeda, and Fernanda Diez, manager communications of the London-based International Council on Mining and Metals, ICMM.
The event is held every two years and attendance figures reflect the changes in the mining industry,  between the most recent convention in 2013 — when more than 1000 national and international firms exhibited their equipment and technology at the accompanying Extemin exhibition— and this year's 739 exhibitors.  The record attendance of over 12,000 in 2013 has dropped to under 10,000 this year.  However, Extemin expects some 100,000 visitors to the fair.
As Semana Economica reported, one international mining executive said his company in 2013 sent five representatives on a private jet to the convention, whereas this year only two have travelled, and on a commercial flight.
As well as lower metals prices, the mining industry in Peru continues to face red tape but
also faces a number of serious challenges in social conflicts, particularly projects such as Southern Copper's Tia Maria in Arequipa and the continuing protest in Cajamarca —now four years on— against Newmont-Buenaventura's Conga gold mine. In both cases, the conflicts sharpened as a result of poor communication, pressure and little if any transparency, both by the mining companies and the government.