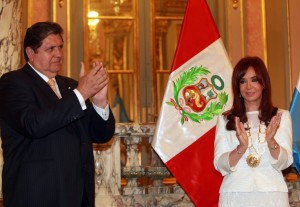 President Alan García awarded the country's highest accolade to his Argentinean counterpart, President Cristina Fernádez de Kirchner, during her visit to Peru on Monday in an attempt to improve diplomatic relations between the South American countries.
During the awarding of the Order of the Sun, García said Fernández's visit is a lesson in courage and civic values, state news agency Andina reported. Fernández's visit to Peru is the first by an Argentinean head of state in 16 years.
"She needs a lot of courage, lots of heart to speak about an apology," García was quoted as saying. "I believe you have enhanced South American integration and have fundamentally provided transparent fraternity, for which we thank you and salute you."
Bilateral relations between the two countries have been minimal since it was revealed that former Argentinean President Carlos Menem was illegally trafficking arms to Ecuador leading up to and during the 1995 Cenepa war, a brief border conflict between Ecuador and Peru.
Besides improving diplomatic relations between Argentina and Peru, Fernández's visit was also aimed at strengthening economic ties. This includes a bilateral renewable energy project that was signed on Monday by García and Fernández.
The director of science and technology policies at the National Council for Science, Technology and Technological Innovation, Luis Ponce, said the agreement will allow Peru to diversify its energy matrix using Argentinean knowledge and experience.
"Argentina has a lot of experience with wind and solar energy which we want to take advantage of to diversify our energy matrix," Andina quoted Ponce saying. "Besides knowing that there are many technologies that will work, but the most important is the experience. To overcome the initial difficulties, the bottlenecks that backup a project and Argentina has gone through that and knows how to steer itself."