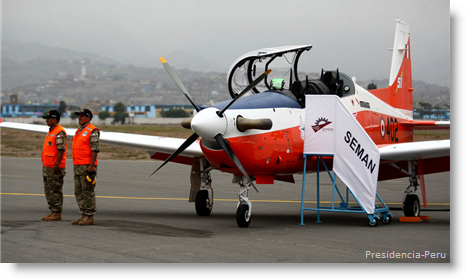 Two South Korean training aircraft were presented to President Ollanta Humala on Tuesday at the Peruvian Air Force base in Las Palmas.  The training craft, the first of a fleet of 20, are part of an agreement with South Korea to begin co-production and transfer of technology in manufacturing training planes.
The single-engine KT-1P will be used as a flight instruction aircraft as well later providing support in the fight against drug trafficking in the VRAEM valleys of the Apurimac, Ene and Mantaro rivers, Humala said.
Another two planes will be brought from South Korea in November, and the remaining 16 will be produced at Las Palmas jointly by the Air Force maintenance services company, Seman, and the South Korean company KAI.  The first of the coproduction in Peru are scheduled to be ready in May 2015, with the final planes delivered in 2016.
Production hangars and facilities have been built at Las Palmas for this Peru-South Korean agreement.
"We have a critical mass of first class technicians and officers in the Peruvian Air Force who have the skills to work in the coproduction of a fine machine of this nature," Humala said.
"With this aircraft project we are working on the transfer of technology as part of the National Production Diversification Plan, so that with the future production we can introduce these planes into the Latin American market and that the region can benefit from these high performance machines.  The Defense sector is thus acting within the policy of diversifying national production," the President added.