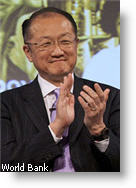 The president of the World Bank, Jim Yong Kim, said that Peru has made good strides economically, but the country still needs to do more to decrease poverty, daily Gestion reported.
"It is a middle-income country, it's been doing well, but there is a lot to do and we hope to work closely with the Peruvian government in the future," Kim said. "For Peru, we think that ending poverty and sharing the prosperity are two issues that are especially appropriate."
The World Bank held a special Global Voices on Poverty event last week, on the eve of the World Bank and International Monetary Fund Spring meetings this past weekend in Washington, D.C.
Peru has experienced tremendous growth over the past decade, benefiting from a commodities boom that has boosted private-sector investments in the mineral-rich Andean nation. As metal prices have begun to slump, Peru's growth has remained robust thanks to domestic demand.
Peru's gross domestic product rose 6.3 percent in 2012, 6.9 percent in 2011 and 8.8 percent in 2010. It is expected to gain about 6.3 percent this year.
The growth has resulted in a significant decrease in Peru's poverty rate during the past decade, although still about a third of Peruvians are considered poor.
Peru's overall, national rate of poverty was at about 28 percent in 2011, which is the latest year for poverty data from the World Bank. In 2004, almost 60 percent of Peruvians were living below the poverty line.
A  policy to promote "social inclusion" has been at the center of President Ollanta Humala's administration. The government aims to continue to raise living standards of the poor by promoting economic growth while improving the services of social programs to lower-income residents in order to improve their well-being.