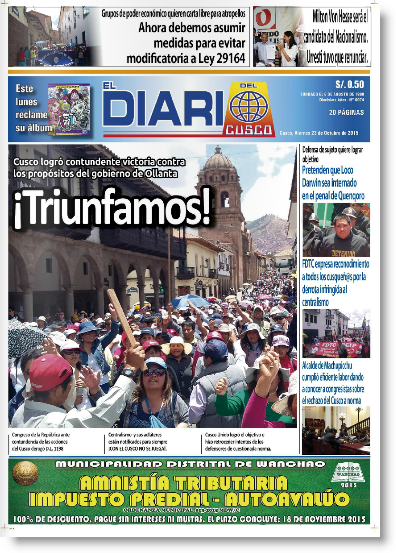 Cusco went back to work Friday, following the repeal in Congress of Law 1198 that was to open doors to private investment and support in developing Peru's huge untapped historical and archaeological resources.
In the 48-hour strike that had some 14,000 tourists stuck in different parts of Cusco since Wednesday, the region lost $1.5 million in revenue.
As it did eight years ago, in 2007, Cusco was up in arms against the law, saying the government was going to sell out and sell off its ancient cultural heritage to private business.
Despite the fact that the law clearly excluded all the key and already-developed Inca and Colonial sites in the broader Cusco area, and could not go into effect until the regulations were drawn up in the next 90 days,  Cusco refused to accept it.
Even efforts by Congress to specifically exclude the Cusco region completely from the law, in order to allow for the development in the rest of the country, was also not accepted by Cusco.
In the end, on Thursday night the law was repealed by 57 votes, with 7 votes against the motion and three abstentions.
In Cusco, Diario del Cusco splashed "We Triumphed!" across its front page, with articles inside praising the repeal and the proud and effective work of the mayor of Aguas Calientes, David Gayoso, who was in Lima to convince the Culture and Patrimony Commission that the law was no good.
In an op-ed in the paper, however, Wilberth Vilca offered the lone Cusco voice in favor of the law.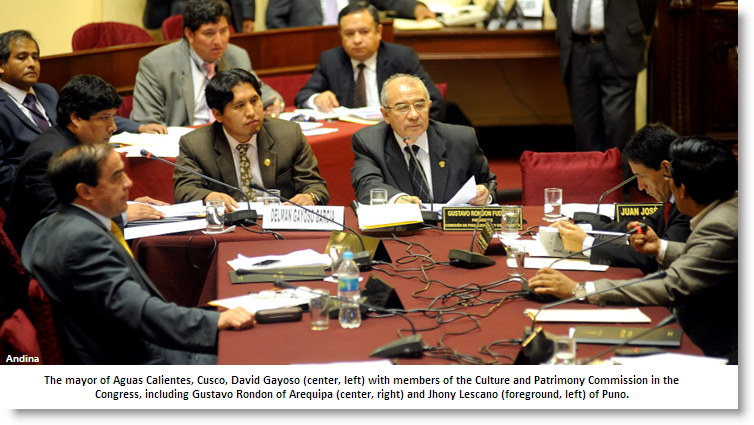 "The atmosphere has been one of disinformation, a lack of debate and little tolerance, where for the fundamentalists, any opposing opinion is assumed to be some kind of treason, a kind of sacrilege," Vilca wrote, under the headline "Cusco, between the Apogee and the Crisis."
Vilca criticized Cusco's "inefficient" regional governor, Edwin Licona, and municipal mayor, Carlos Moscoso, for sanctioning the strike, "finding their life preservers to bathe in popularity," and distract a deeply dissatisfied electorate.
He called for a stop to corruption and improvisation, "which seems to be the common ill of those who govern us, many of whom are serving jail sentences."
The aim of Law 1198 was for the government to work with private investment to develop, through a concession system, the hundreds of archaeological and historical sites throughout Peru that need the financial boost for scientific research and restoration to develop tourism and a sustainable development for local communities.