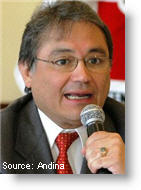 Peru's former ombudsman, Walter Alban, has been appointed to be the country's permanent representative to the Washington D.C.-based Organization of the American States, OAS.
Alban was Peru's acting ombudsman, known as the Defensor del Pueblo, from 2000 to 2005, during the administration of ex-President Alejandro Toledo. He was succeeded by Beatriz Merino in 2005.
In 2008, Alban was appointed dean of the Law Faculty at  the Pontificia Universidad Catolica del Peru.
Alban succeeds Peru's previous representative at the OAS, Hugo de Zela, who earlier this year took on the post as the organization's chief of staff to the Secretary General.