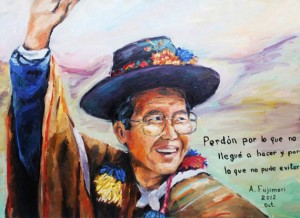 A self-portrait by Alberto Fujimori in which the jailed former President asks for forgiveness, has raised eyebrows and irked critics, who are calling the painting a "farce" aimed at swaying public opinion to support his request for a humanitarian pardon.
The painting, made public this week, shows a smiling and waving Fujimori dressed in Andean attire. Fujimori wrote on the painting: "Sorry for what I wasn't able to do and what I couldn't prevent," in reference to politicalcrimes committed during his administration in the 1990s.
Fujimori is serving a 25 year prison sentence for human rights abuses committed when he ruled Peru from 1990 to 2000. He was convicted in 2009 on charges that he knew of and authorized the kidnapping of two people, and the killing of 25 others, by the paramilitary death squad known as the Colina group, in the early 1990s. Although he pleaded innocent, the prosecution's arguments and the procedure of the trial were commended internationally. In a subsequent trial, he pleaded guilty to charges of corruption and was sentenced.
Since being imprisoned, Fujimori's health has deteriorated and he has a tumorous growth in his mouth that has been treated with surgery on several occasions. Although the national cancer institute, INEN, has reported that his treatments have been appropriate and successful and that his life is in no danger, the Fujimori family and close supporters, including former Health minister Dr. Alejandro Aguinaga, have led a consistent campaign to argue that Fujimori is dangerously ill.
Earlier this month, his children submitted a formal request for a pardon from President Ollanta Humala based on his health condition.
Fujimori is still a very polarizing figure in Peru, and the possibility of a pardon has led to contentious debates between supporters and critics. Some of his critics have said that he should apologize to the families of the victims of his crimes, and Monsignor Bambaren, bishop emeritus of Chimbote, has said that Fujimori needs to recognize his involvement before reconciliation can be considered.
Political analyst Carlos Tapia called the painting and the apology a "complete farce."
"Fujimori should truly ask for forgiveness," Tapia said, according to daily La Republica. "He should ask for it directly and clearly to the relatives of [the victims]. He hasn't done so because Fujimori believes he is innocent."
Peruvian painter Fernando de Szyszlo, one of the country's most eminent artists and a human rights activist, said Fujimori's painting and apology are an insult.
"That a former president sends a horrible drawing, a type of caricature, asking forgiveness is ridiculous and a lack of respect towards the nation," said Szyszlo, who has come out against releasing Fujimori from prison.
"I don't see how he can ask for forgiveness for the things that he has done," Szyszlo added.
"This isn't an apology…. it's a media tactic," said Salomon Lerner Febres, who was president of the Truth & Reconciliation Commission, CVR.
Meanwhile, lawmaker Yonhy Lescano (Puno-Accion Popular) said Fujimori's self-portrait appears to show that the former president is in better health than his family and supporters have suggested.