Peru's judicial commission announced Thursday it is suspending a competition to fill vacancies at the Supreme Prosecutors Office following allegations of corruption in the selection process.
The National Magistrates Council, or CNM, said it is postponing the last stage of the competition – the personal interviews – due to allegations that one of the members of the selection committee, Efraín Anaya, had told a candidate he would support his application if he provided "economic incentives," daily El Comercio reported.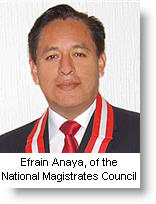 The president of the CNM, Carlos Mansilla, said the applicant who made the bribery accusation was Tomás Gálvez, an attorney who reportedly works in the office of Supreme Prosecutor José Peláez.
According to unnamed sources cited by El Comercio, Gálvez reported to the CNM that he made contact with Anaya through a mutual acquaintance and scheduled a meeting on Feb. 5 outside a mall in Lima's middle class San Miguel district. During a discussion inside Anaya's vehicle, Gálvez asked what his chances were in being selected for one of the three Supreme Prosecutor positions and if Anaya was planning to support his application. Anaya allegedly implied that he would support Gálvez in exchange for money.
"Here, magistrates are chosen for their political power or for their economic power," Anaya is quoted as saying. "Which of the powers do you have? I don't think you have the first, but you do have the second."
Gálvez reportedly withdrew his application from the competition after he reported his meeting with Anaya to the judicial commission.
The CNM said in a statement on Thursday Anaya had resigned from his position on the selection committee. Carlos Mansilla said the CNM is considering pressing charges against Anaya.
"This is in the hands of our legal counsel to determine what path to take… if we should formalize a charge and, in this case, with whom," Mansilla told Ideele Radio. "With the Attorney General or perhaps with (Congress's) Constitutional Accusations Commission, as well as the rest of the actions that correspond to this situation."
Allegations of irregularities in the CNM's selection process were reported earlier this week. Avelino Guillén, a highly regarded and incisive state attorney in key cases, said Tuesday he was planning on resigning from Peru's Public Ministry after he failed an exam to obtain tenure at the Supreme Prosecutors Office.
Guillén said the CNM did not provide justification for rejecting the exam and he alleged their decision was influenced by a leading member of President Alan García's ruling Aprista party.
The exam required that Guillen develop the prosecution argument in the Alberto Kouri-Vladimiro Montesinos case, a case that, ironically, Guillen himself developed and took to trial, and won.
In 2008 he made the list of "Personalities of the Year" compiled by Spanish daily El País for his work as prosecutor in the human rights trial of former President Alberto Fujimori.