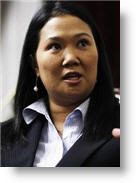 Ex-Presidential candidate Keiko Fujimori said that her family will seek a humanitarian pardon for her father, former president Alberto Fujimori, after Christmas, daily El Comercio reported.
Keiko Fujimori, who was a member of Congress until July 2011, said that the family and its lawyers are currently gathering the necessary documentation to make the request to President Ollanta Humala.
"I imagine that it will be made during the coming weeks, but I don't think it will be before Christmas," Keiko Fujimori was reported saying.
Alberto Fujimori, 73, is serving a 25-year-sentence for human rights abuses in 1991 and 1992 — the Colina death squad killings in the Barrios Altos (15 dead in a family courtyard) and La Cantuta (a university professor and nine students murdered), and the kidnapping of businessman Samuel Dyer and journalist Gustavo Gorriti during his self-coup in 1992.
Fujimori also pleaded guilty to corruption charges in a subsequent trial, but under Peruvian law sentence time is not accumulated and only the longest sentence is served.
Fujimori has aged considerably since he was imprisoned in 2008. He is said to be suffering from depression and is being treated for an alleged cancerous growth on his tongue. He is serving his time in the Diroes police complex in north Lima, in a special suite with no visitor restrictions.
In a recent opinion poll by Ipsos Apoyo, 66% of Peruvian interviewed favored a presidential pardon for humanitarian reasons.   This is due, according to Carlos Rivera, assistant director of the Legal Defense Institute, IDL, to a media campaign led by the Fujimori family to soften public opinion .
"Over several months now, Fujimori's legal defense, the family and the political group have been developing a very clever strategy, like a strategy to soften public opinion, and I believe the 66% (of the latest poll) is the result of that," Rivera said on Ideeleradio.
"It's not that people have been convinced to send a man convicted of human rights violations home, but that it is the result of a strategy…..to wish to present a Fujimori completely helpless, thin, underweight, as if that were sufficient reason or cause to argue for a pardon," Rivera said.
Monsignor Luis Bambaren, bishop emeritus of Chimbote, said on Ideeleradio that "There are many in jail who are terminally ill and in some cases we have been able to get them out so that they can die with their family and in some cases we haven't. So, we have to consider that Fujimori is not the only prisoner who is ill and we should try to remain within the law." 
"If it's terminal, no one should die in jail," Bambaren said, "but until now it is not terminal and so then we should wait for the medical report."
Investigative journalist Raul Wiener of Diario La Primera, alleges that Fujimori's pathology report at the INEN cancer hospital indicated in February this year that Fujimori had inflammation and lesions on his tongue but that there is no mention of any form of cancer.