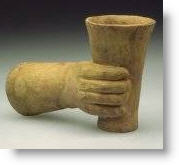 Archaeological remains from Machu Picchu, which recently returned to Peru from Yale University, have arrived in Cusco where they will be displayed at the Casa Concha, owned by the Universidad Nacional San Antonio Abad de Cusco (UNSAAC).
The pieces arrived in Lima in early April and were put on display at the Government Palace before being re-packed and flown to Cusco by the Peruvian Air Force accompanied by Culture Minister Juan Ossio.
Cusco authorities applauded the return of the artifacts on Wednesday. "Brothers, today we are happy. Each one of us is going to sing and clap because the pieces are now here, they now have returned," state news agency Andina reported Cusco Mayor Luis Florez as saying. "It is not gold or silver, it is what our elder brothers did, that was taken away and never should have left."
UNSAAC is building a new museum and research center for the artifacts at the Casa Concha. University authorities have previously said that the inauguration of the exhibition is scheduled for July 7, in a month of celebrations to mark the centennial of the uncovering of Machu Picchu by Hiram Bingham.
In total, 46,635 fragments and artifacts were taken from Peru to Yale for research purposes by Hiram Bingham, an American historian sponsored by Yale and the National Geographic Society, during expeditions from 1912-16.
The first shipment is of 366 objects –the best pieces for exhibition– and 1000 fragments, while the remainder will be returned by December 2012.