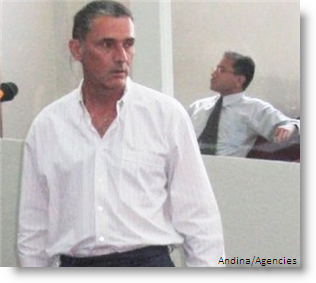 Peter Cardenas Schulte, considered the No.2 man in the Tupac Amaru Revolutionary Movement, MRTA, was released this week from the maximum security prison at the naval base in Callao.  He has served his 25-year sentence, on a conviction of aggravated terrorism.
Cardenas was convicted in March 2006 but his time was calculated from the date he was arrested, in April 1992, plus the 18 months he served in 1988-89 without charges.
Operating as The Sicilian or Alejandro, Cardenas was on the MRTA's central committee with the founder, Victor Polay, and two others, and was one of the heads of the annihilation squad for Metropolitan Lima, which assassinated army Gen. Enrique Lopez-Albujar, shot in his car at a traffic stop in San Isidro, and kidnapped Hector Delgado Parker, the key member in the family-owned business of Panamericana TV.
At the time Cardenas was arrested, he had been driving freely throughout the city in a van with tinted windows, even going to the beaches south of Lima to surf.
He was found guilty of executions, murders, and theft, and personally responsible for the kidnappings of Delgado Parker and the pharmaceutical CEO Hory Chlimper, and of the use of anti-tank rockets against the ministries of Education and Finance, and against the home of Finance minister Carlos Boloña.
He told his interrogators of the "people's jails" where they had held the business executives they kidnapped for ransom.
The MRTA's list of kidnapped executives was a who's who of the country's leading industrialists and entrepreneurs, including Ferreyros, Fukuda, Miyasato, Furukawa.  Jose Antonio Onrubia of the Romero Group was held for 18 months in shipping container, with no natural light and no running water. Mining executive David Ballon, 60, was held for also close to 18 months, shot dead and left in a back street in San Miguel district — he had lost 40 kilos and showed signs of torture.
In 1990, shortly before President Alan Garcia handed over the government to the newly elected Alberto Fujimori, Cardenas planned, financed and led the building of a tunnel to allow the escape of MRTA founder Victor Polay and 47 other MRTA combatants from the Miguel Castro Castro prison.  At the time of the escape, political analyst Mirko Lauer commented that the tunnel led straight to the government palace — Victor Polay and Alan Garcia had grown up together as sons of Apra members and later shared rooms at the Sorbonne University in Paris.
The Truth & Reconciliation Commission, CVR, spoke to Cardenas during their research in 2001-2003.  He never apologized for being an MRTA militant but asked forgiveness for his crimes. "To ask them for forgiveness for having left them without parents, sons or brothers, for having made them suffer. I ask them for forgiveness from the depths of my soul," Cardenas said.
Cardenas has served his sentence but he still owes the State S/. 50 million (about $50 mn) in civil damages.
"The Prosecutor's Office will not let the civil redress go unpaid. This person needs to get a job and he will have to pay, just like other convicts," said Milko Ruiz, the state prosecutor for terrorism cases.
Hector John Caro, a former chief of the Counter-Terrorism Office (Dircote), told Canal N TV that Peter Cardenas was one of the most bloodthirsty and cruel terrorists Peru has ever had.
In Caro's opinion, Cardenas has not changed in jail. "He has perfected himself, reading several revolutionary books."
Ketin Vidal, in a phone conversation to the same TV program, disagreed with Caro's attitude.
"We live within the rule of law and the law must be complied with, whether we like it or not, he had to be released," Vidal said. "And that is what will happen with other leaders of Sendero and MRTA."
Vidal, who agrees that Cardenas is exceptionally bloodthirsty and cruel, was head of Dircote when Cardenas was captured —and months later when Abimael Guzman of the Shining Path was captured.
"We gain nothing by insulting them, shouting, by saying they were the worst, they were the devil.  That's not how we fought against Sendero nor against the MRTA. We defeated them by organizing operative intelligence units within Dircote," Vidal added, calling for greater emphasis by the police and Interior ministry on intelligence work.