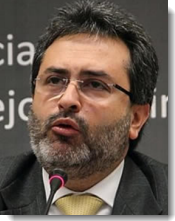 Premier Juan Jimenez has said that no other cabinet members are planning to resign in the coming days, according to daily El Comercio.
Peru's Foreign Trade Minister Jose Luis Silva and Social Development and Inclusion Minister Carolina Trivelli resigned on Monday.
Local media has reported that other members of President Ollanta Humala's cabinet plan to step down, or may be asked to step down, including Labor Minister Nancy Laos, Interior Minister Wilfredo Pedraza, Defense Minister Pedro Cateriano and Jimenez himself. According to reports, those resignations are expected before the July 28 national independence holiday.
Jimenez said that reports of further cabinet resignations are untrue and are aimed at "misinforming."
"I don't know what the purpose of these statements are. Yesterday we confirmed the resignation of two ministers. There aren't any more to announce for the moment," Jimenez said. "Let's not continue speculating. There aren't any more resignations. Everything is the same, everything is calm."
President Humala completes two years in office on July 28, a date on which he addresses Congress and the nation and on, which traditionally, the head of the government announces any cabinet changes.