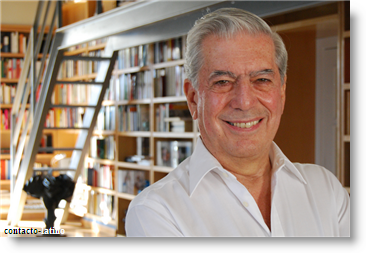 Author Mario Vargas Llosa believes that an upcoming ruling on a maritime border dispute between Peru and Chile should ease tensions between the two South American nations.
Vargas Llosa, one of Peru's leading public intellectuals and winner of the Nobel Prize in Literature, said that both Peru and Chile have demonstrated "wisdom and seriousness" in the run-up to the much-anticipated ruling, according to daily Peru.21.   "Except for a few cases that are never lacking, no?" he added in an interview with Caretas.
Vargas Llosa said he hopes the countries will maintain that attitude after the reading of the ruling, which could create some diplomatic tensions.
"Chileans and Peruvians should understand that what is important, whatever The Hague's ruling, is that we are going to have fixed borders and that we are going to be able to dissolve those borders through commerce, cultural exchanges and shared actions in the political field," Vargas Llosa said.
The ruling will be delivered by the International Court of Justice at The Hague on Monday. Peru filed its complaint against Chile at the ICJ in 2008.
The dispute dates back to the 19th-century War of the Pacific, in which both Peru and Bolivia lost large swaths of territory to Chile.
The dispute is over some 38,000 square kilometers of fishing-rich waters in the Pacific Ocean that Chile currently controls. Another 28,000 square kilometers of ocean is also under dispute. Peru claims that area, but Chile says it should stay under international jurisdiction.
Chile says the borders were established under treaties signed in the 1950s. However, Peru claims that those were just related to fishing rights. Both Peru and Chile are major fishmeal producers thanks to an abundant stock of anchovy in the waters off their coasts.