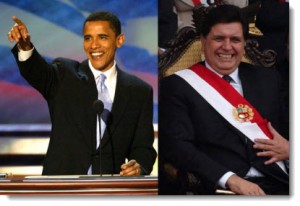 Peru's President Alan García and his U.S. counterpart, President Barack Obama, are expected to discuss immigration and counter-narcotics policies during their first official visit planned towards the end of May and early June, Foreign Affairs Minister José Antonio García Belaunde told state news agency Andina.
"One of the topics is immigration, which for any Latin American country is a matter of priority in their agenda with the United States," García Belaunde said. "The other topic is the fight against drugs [in order to] really review what we are doing and what we can do better."
García Belaunde said the president's will also discuss the implementation of the free trade agreement between Peru and the United States, adding that there are still a few unresolved areas in the trade deal.
"It is an open agenda and my opinion is that these are the most important topics right now," he said. "That's my perception, but there is also their perception and they could have some topics that they consider more important to discuss."
President García will travel to the United States from May 31 to June 3, daily El Comercio previously reported. Besides a meeting with President Obama and other members from the U.S. executive, he is also expected to meet with members of Congress and representatives from U.S. companies.