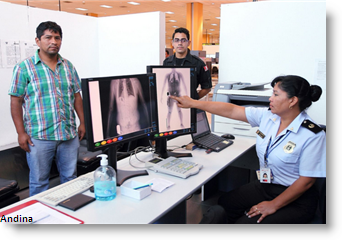 Peru's government has installed equipment in several of the country's airports, aimed at preventing passengers from smuggling out illegally-mined gold, state news agency Andina reported.
The high commissioner in charge of formalizing the mining industry, Daniel Urresti, said that smuggling gold powder and bars hidden in suitcases is one of the ways that informal miners send the metal from Peru for sale abroad.
Officials hope the new body and baggage scanners will help them detect gold hidden in luggage. The machines have been installed in the airports in Lima, Arequipa, Cusco, Juliaca and Puerto Maldonado.
"If gold is detected and it has a legal origin and the documentation proves that, it will be returned to the owner," said Urresti. "But if it does not have documents for the purchase and sale and it isn't certified as licit it will be seized and the person detained."
"With the implementation of this equipment we will hit illegal mining hard because the transport chain will become complicated," he added. "The objective is that [illegal] mining stops being a profitable business as the costs of transportation will increase."
Andina reported that illegal mining moves about $2.9 billion annually in Peru.
The activity has been the cause of widespread environmental damage in Peru's south-eastern Amazon region, as well as in parts of the highlands and on the coast. It is also to blame for crimes like corruption and human trafficking.
The government has been looking at methods to tackle informal miners over the past several years, although the first serious efforts in 2011 were met by large protests by the tens-of-thousands of individuals involved in the business.  Since then, Navy river operations and the police have worked together to destroy large machinery and dredges on the Madre de Dios tributaries on a regular basis.
It is unclear if the new machines at the Peruvian airports will make much of a dent in the activity. Despite increased government efforts, smugglers still use airports to transport everything from cocaine to cultural artifacts out of Peru with little difficulty.