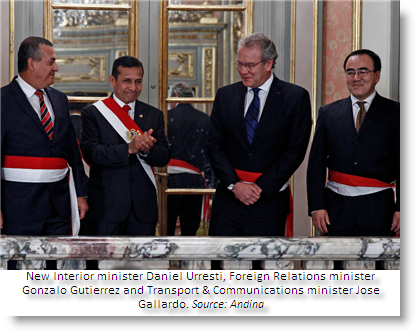 President Ollanta Humala replaced three ministers on Monday, including the appointment of his sixth Interior minister since he took office in July 2011.
Career diplomat Gonzalo Gutierrez replaces Eda Rivas at the Foreign Relations ministry, and economist Jose Gallardo is to head Transport & Communications, succeeding Carlos Paredes, one of the longest-serving ministers, who has headed the portfolio since July 2011.
Humala has replaced Interior minister, Walter Alban, with retired military general Daniel Urresti. Urresti has been in charge of the office responsible for interdiction and formalization of illegal gold mining operations.
Alban was appointed Interior Minister in November 2013, following the resignation of his predecessor due to a scandal involving police protection for a former political operative of Vladimiro Montesinos, Peru's once all-powerful  spy chief during the Fujimori administration.
A former People's Ombudsman and Peruvian Ambassador to the Organization of American States, OAS, Alban is well-respected, but had difficulty getting his footing as Interior minister.
Urresti, on the other hand, has had some success in curbing illegal gold mining despite protests from the miners. He recently said that about 70% of illegal gold mining in the Madre de Dios region would be stopped by July.
"Alban was open to dialogue, he listened, and resolved problems in consensus," said congressman Yehude Simon. "I'm afraid the man replacing him might not know how to dialogue.  Let's hope I'm mistaken."
The Human Rights Coordinator, headed by Rocio Silva-Santisteban, has also expressed concern about the appointment of Urresti, citing complaints of abusive force, torture, one extra-judicial killing, and threats to journalists in the operations carried out in Madre de Dios against the illegal gold mining.
Authorities blame illegal gold mining for widespread environmental pollution, as well as costing the state millions of dollars in unpaid taxes.