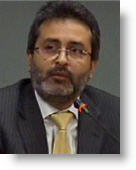 Justice Minister Juan Jimenez said Wednesday that Peru needs a new legal framework to combat organized crime, state news agency Andina said.
Jimenez said that the Executive seeks to ask Congress for facilities to improve the government's efforts to tackle organized crime.
"It is important that the country can count on these tools and that organized crime is checked and does not go unpunished like it is today," he said during a presentation to Congress' investigation committee.
He said that lawmakers could provide legislation for citizen security and make reforms to the penal code. "There are problems with the code in some parts of the country and with some reforms. We could overcome them," Jimenez said.
Organized crime in Peru has been growing in a number of areas, particularly due to  the illicit drug trade and illegal gold mining. The activities are responsible for laundering some $6 billion a year, according to figures from the attorney general's office.