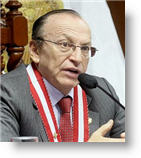 Money laundering in Peru moves some $6 billion per year, with two-thirds of that amount coming from the illegal gold industry, Peru's attorney general, Jose Pelaez, said.
Illegal gold mining moves around $4 billion a year, while drug trafficking moves the rest of the $2 billion per year, Pelaez said.
Elmer Cuba of Macroconsult, puts the figures at $1.8 bn for illegal gold —22 per cent of total gold exports— and $1.2 bn for cocaine. 
Pelaez said that the implementation of new laws to detect money laundering in illegal mining will allow for improved investigations.
"Very soon and progressively we will see results," Pelaez said.
Illegal gold production is a national problem, heavily focused in the south-eastern jungle region of Madre de Dios with an increasing number of illegal dredges appearing in the northern jungle in Loreto region.
Economist Elmer Cuba said last week that 22 percent of gold exported from Peru is illegally produced. While the illegal industry employs thousands of people, it is known to have also created widespread environmental destruction as well as social problems like forced labor and prostitution.
Peru is the biggest gold producer in Latin America, and one of the world's top producers of cocaine.