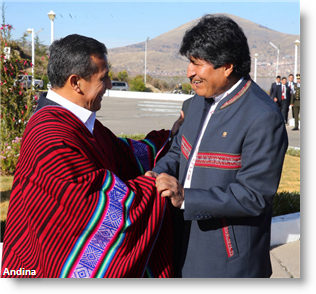 Presidents Ollanta Humala and Evo Morales met in Puno on Monday to kick off the first Peru-Bolivia binational cabinet session, an instrument for closer cooperation in common development issues.
The four major themes on the agenda are environment and water resources, security and defense, economic development, social issues and institutions, and infrastructure to ensure integration and common development.
In an effort to solve serious environmental issues, Peru and Bolivia are to begin joint interdiction of illegal mining in the Suches River basin and also relaunch the Lake Titicaca Binational Authority.
"We hope to reduce pollution in the [Suches] watershed we share with Bolivia," said Peru's Environment minister, Manuel Pulgar-Vidal, during the first cabinet sessions.
The Titicaca Binational Authority needs bolstering, Pulgar-Vidal said, and both countries are looking at working together to find joint public-private investment to clean up Lake Titicaca.
One of the binational environmental projects is the building of 10 waste treatment plants to clean up the lake — the proposal would require an investment of $470 million, with public and private investment.
Peru also has Binational Cabinets with Ecuador and Colombia on its northern borders.