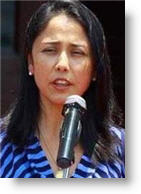 Peruvian first lady Nadine Heredia traveled to Brazil where she met with the leader of Latin America's biggest economy, daily La Republica reported.
Heredia met with Brazilian President Dilma Rousseff for 40 minutes as part of an official visit, the report said. The two discussed social programs in Brazil, as well as Brazilian laws and plans to promote gender equality and reduce domestic violence.
Heredia also gave Rousseff an invitation from President Ollanta Humala to participate in two regional summits scheduled in Lima later this year.
Heredia was accompanied on her two-day visit in Brasilia by Development and Social Inclusion Minister Carolina Trivelli, and two deputy ministers, who have held meeting with ministers and authorities in related work.
The visit comes as opponents of President Humala, including his father Isaac, have accused the first lady of playing too significant a role in Peru's government.
Isaac Humala, 81, is the ideological leader of an ethnic nationalist movement in Peru. He has been one of the president's biggest critics and accused his daughter-in-law of being "drunk with power."
Heredia, 36,  is a founder of Ollanta Humala's nationalist party and has worked closely with the President since he began his political career.   She worked as a volunteer with Transparencia during earlier presidential elections, has a communications degree from the Universidad de Lima, and holds a doctorate in sociology from the University of Paris. 
President Humala has alienated many of his former supporters, including his father and other family members, since taking office and governing from a pro-business center rather than the radical left that he promised during the campaign.