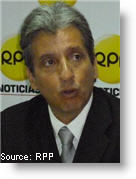 Environment Minister Manuel Pulgar-Vidal held talks with gold miner Minera Yanacocha about a job offer in mid-2011, only months before his appointment to the Cabinet, according to a report by IDL-Reporteros.
Pulgar-Vidal took over the ministry in early December, after protests against Yanacocha's $4.8 billion Minas Conga project led President Ollanta Humala to reshuffle his cabinet. The cabinet change came only five months into Humala's term, and is seen by many analysts as a sign the President will govern from the center after campaigning on left-leaning policies.
In his new position, Pulgar-Vidal will have an important role in resolving the dispute over Yanacocha's Conga project, which is opposed by local residents who believe it will harm the environment and their water supply. The project includes the draining of four lakes and the building of reservoirs further downstream.
According to IDL-Reporteros, Yanacocha approached Pulgar-Vidal numerous times between July and October offering him a managerial position to "improve relations with regional and local authorities" in favor of the company.
At the time, Pulgar-Vidal was executive director of the Peruvian Environmental Law Society, SPDA.
Yanacocha's regional vice president for legal and corporate affairs, Javier Velarde,  said that other candidates were interviewed for the job. However, IDL-Reporteros cites unnamed sources saying the position was created especially for Pulgar-Vidal and that when he was named minister, the job search was cancelled by the company.
Environmentalist and former priest Marco Arana, who helped coordinate the protests against the Conga project, said the revelation puts the minister's credibility into question.
"In reality, with the greatest respect and friendship that I have for Manual Pulgar-Vidal, it is really worrying that the mining company had sought to incorporate him — from among the numerous professionals the country has — to join their ranks and legitimize highly questionable business activities," Arana said during an interview with Ideeleradio.
"I think it would have been healthy that rather than this being the fruit of investigative journalism that the minister would have come out and said that there were talks about this issue," Arana added.