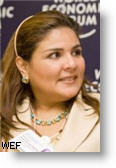 Peru, which has been one of Latin America's fastest growing economies, is a source of inspiration for other nations in the region, according to the head of an economic forum taking place in the Andean nation this week.
The World Economic Forum on Latin America was inaugurated on April 24, with public sessions starting Wednesday and wrapping up on Thursday. More than 650 participants are attending the event, held at the city's newest and tallest hotel, the Westin in the heart of the San Isidro financial district.
Prominent participants include Mexico's President Enrique Peña-Nieto, World Bank chief economist for Latin America and the Caribbean, Augusto de la Torre, President Ricardo Martinelli of Panama, and the Organization of American State's secretary general, Jose Miguel Insulza. The theme of the conference is: Delivering Growth, Strengthening Societies.
"Peru is indicative of the promise of most Latin American nations," said Marisol Argueta de Barillas, senior director and head for Latin America of the Switzerland-based World Economic Forum. "We hope the outcomes of the discussions at this meeting will be a source of inspiration to action that will continue to propel Latin America into an enduring success story, where economic growth may be invested in human capital and turned into a source of long-term development."
Peruvian Premier Juan Jimenez said in a statement that the event  includes talks on "key issues" for Latin America and Peru. "We are fully committed to the development of our country; however, we are conscious that there is still a long way ahead of us. We are a country that promotes investment, and we know that the path to economic growth runs along the path of investment," he said.
Peruvian Finance Minister added that despite the country's strong growth in recent years, it still needs to improve competitiveness and productivity. "Peru faces a number of challenges to take advantage, fully, of its economic potential," he said. "We will have ample discussions on these issues during this forum."
The World Economic Forum on Latin America has previously been held in Brazil, Mexico and Colombia. This is the first time it has been held in Peru.