Britain and Peru appear to be mending ties through the private sector following a diplomatic rift caused by Peru's last minute cancellation in March of a visit to the port of Callao by Britain's HMS Montrose, a navy frigate.
Peruvian business and government leaders travelled to London last week as part of a three-city tour this year that aims to increase investments in the South American country.
The Peruvian business group included leaders from the country's banking, mining, energy, and other sectors, and was led by the Minister of Finance, Luis Miguel Castilla, Central Bank president Julio Velarde, and Roberto Hoyle, president of the Lima Stock Exchange.  Also present in London for the event was the British Ambassador to Peru, James Darius.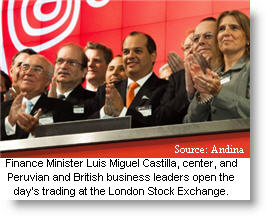 The visit comes only weeks after some political analysts raised concerns that relations between the two countries could freeze following Peru's unexpected decision to cancel the visit of the UK frigate, in support of solidarity with Argentina in its dispute with Britain over the sovereignty of the Falkland Islands.
Governments in South America have unanimously backed Argentina's decades-long claim against Britain, which resulted in a brief but deadly war in 1982.
Jeremy Browne, the British Minister of State for Latin America, said there is interest in British investors in Peru's mining, services, financing and technology sectors.
"The opportunities for British investment in Peru increases with the growth of its economy," said Browne, according to newspaper La Republica.
Browne said the InPeru road show to London will attract more British investors to Peru, while also allowing Peruvian companies to grow in Europe. "It is great that this delegation of Peruvian businesses visited Great Britain to strengthen relations between both countries," Browne said.
British businesses have more than US$4.45 billion invested in Peru, making the United Kingdom the second biggest foreign investor with 20% of the total foreign investment in the country.