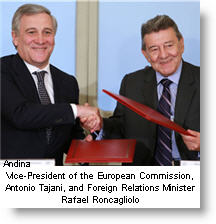 A free trade agreement between Peru and the European Union is expected to enter into force on March 1, said Antonio Tajani, the European Commission's vice president and responsible for industry and entrepreneurship.
The trade pact, which also includes Colombia, was approved by Peru's Congress and European Parliament late last year. Negotiations for the trade deal started in 2010 and ended last June.
About 18 percent of Peru's exports go to Europe, making it the Andean country's biggest trading partner ahead of China and the United States. The private sector has said that it will benefit Peru's manufacturing, agricultural and non-traditional fishing exports.
Tajani said the free trade agreement with Peru is important as it could help to combat economic troubles in Europe. "Together we can beat the external financial crisis and support social inclusion working alongside companies," Tajani said, according to Peru's state news agency Andina.
Tajani was in Lima accompanied by a delegation of more than 40 European business executives for meetings with private and government officials in Peru, prior to the Business Summit of the European Union and the Community of Latin American States, Celac, being held in Santiago de Chile this weekend.