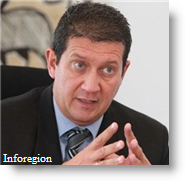 Peru has officially become the world's top producer of coca, the raw material used to make cocaine, the United Nations said Tuesday.
The confirmation that Peru has overtaken Colombia as the world's biggest producer of coca was expected. Peru's output has been increasing steadily over the past decade, while Colombia's has fallen sharply, and in 2011 the U.S. government said that it ranked Peru as the world's biggest cocaine producer.
The reason for the shift is in large part due to successful crop eradication efforts in Colombia over several years, funded heavily by the United States, and thus coca growers have had to plant new bushes that are not yet yielding much. Additionally, the interdiction efforts have pushed many coca growers south to cross into the northern Peruvian jungle.
However, the UN data has a silver lining. After seven years of steady increases, the surface area used to grow coca crops in Peru decreased slightly in 2012 compared to the previous year, state news agency Andina reported.
In 2012, some 60,400 hectares were used to grow coca, down 3.4 percent from 2011.
"That is an important step. The fact that it fell after seven years of continuous growth, shows that the efforts to control this problem are showing results," said the UN representative in Peru, Flavio Mirella, for the UN's Office on Drugs and Crime, UNODC.
Over the past decade, as the government set a target to destroy some 10,000 hectares of coca fields per year, more crops were being planted in other, newer areas, making any eradication efforts  seem insignificant on any chart.
But as Peru's anti-drug chief, Carmen Masias, said this week that in 2012 the government eradicated 14,234 hectares of coca crops, up 38 percent from 2011. Peru also seized 19,967 kilos of cocaine paste last year, 40 percent more than in the previous year.
Mirella said that he expects the number of coca crops to fall even further this year. Peru's government has set a goal to increase eradication this year to 22,000 hectares and officials recently said that eradication was on track, with 17,000 hectares destroyed.
"The most likely is that next year there will be an even lower number, maintaining this tendency," he said.