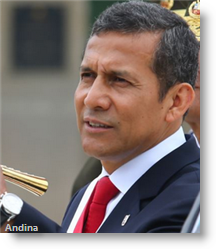 President Ollanta Humala called for an extraordinary legislation meeting of Congress, being held today, to debate his Youth Labor Law, which is creating a high political cost to his government.
By this call, Humala has effectively brought the debate ahead of the plans by the permanent commission in Congress to begin debates on Wednesday.
The President is trusting that the Congress will amend the law, if it makes any changes at all, but the opposition want to repeal it, swept on by public protest (72% according to Ipsos opinion polls) against what is considered the removal of existing benefits for young workers.
The aim of the law, enacted in mid-December, is to create more temporary jobs for young men and women between the ages of 18 and 24, particularly focused on providing training and working experience to those who otherwise would not have any opportunities of obtaining higher technical or professional education.
Production Minister Piero Ghezzi, who believes the government's mistake was not explaining the law's benefits more clearly to the public, said the government could install technical systems to back up physical inspections to make sure employers are abiding by the law.
Ghezzi also argued that the law was drawn up as a solution to the current market's prioritization of experience, which is a serious stumbling block to people looking for their first job.  "It is a failure of the market, growth does not simply solve this problem, which is why we have 93% of young people either unemployed or working in the informal sector or on fixed term contracts that flout labor stability laws."
With the new law "they'll receive lesser benefits for several years, but they will be increasing their experience and skills for the rest of their lives," he said.
Unlike the youth training modality currently in place, the Youth Labor Law puts young employees on the payroll, contributes to the state pension fund, provides an injury subsidy, and provides severance pay (20 days per year). They would not receive bonuses (July and December) nor the CTS service compensation, but would get 15 days vacation per year (the same as in apprenticeships and in small businesses).  The employment contract would also have to be for a minimum of one year (and maximum of three) whereas under the current apprenticeship system there is no minimum employment period and the maximum is two years.  (Click here to see chart).
The law, which is said to have been drafted with the help of the private industry confederation, Confiep, is seen as kowtowing to the business sector to provide cheap labor.
But there are also fears that businesses will not incorporate any of these young workers into their permanent workforce once they turn 25, or that older employees who enjoy full work benefits will be fired in order to hire the less expensive, shorter-term young people.
Leaders among oil workers in Talara, for instance, are warning their co-workers that the oil industry companies might begin to fire them in order to take advantage of the cheaper labor available under the Youth labor Law.
Oil companies working in northern Peru, including Olympic, Petrex, Pepesa and Skanska, have begun to let go some of their workers as they face plummeting crude oil prices.
Four protest marches have been held since the law was enacted, with huge crowds. Despite the success, Catholic University's professor in government and public policies, Eduardo Dargent, points out that there is no visible leader or head to the protests.
However, Dargent also believes that political parties hoping to capitalize from this discontent will find it hard work "because many of these people who are protesting do not believe in politics, not even in the most basic of political organization."
Political groups may find it hard work but that won't stop them from trying.
The march to Congress last week turned particularly violent when clashes broke out between police and protesters in several spots of central Lima, resulting in 16 police officers being injured by clubs and rocks.
"Is it so hard to see that the police as the victim," he added, according to newspaper La Republica. "The youth got together with the devil because they have gone out to protest with people who have nothing to do with the law." Urresti was referring to the labor unions CGTP and far-left political organization Movadef, which has ties to imprisoned members of the now defeated Shining Path insurgency.
A fifth march was scheduled for this coming Wednesday, when the Congress' permanent commission was to debate the law, but this may effectively have been headed off by bringing the debate forward to today.