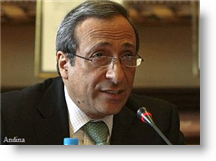 Corruption in Peru is costing the Andean country approximately $3.57 billion per year, according to estimates given yesterday by the Comptroller General, Fuad Khoury.
Khoury said that the annual losses caused by corruption are equivalent to about 2 percent of Peru's gross domestic product.
"Peru is a young country, strong and with energy, but it's carrying this burden that is called corruption," Khoury said, according to daily El Comercio. "It is a burden on her back and its holding her back from growing. It is a burden that represents approximately 2 percent of the gross domestic product."
Of more than 4,000 public officials accused of corruption, only 300 cases have reached a court sentence, and only 90 officials have been found guilty, Khoury said.  "That is a sign of impunity."
Khoury, speaking at the CAAI 2013 International Anticorruption Conference, held in Lima this week, said that main victims of corruption are the almost 10 million Peruvians living in poverty.  Speakers at the conference included specialists from Chile, Argentina, Mexico, Germany, the United States and the United Kingdom.
High-profile corruption cases are common in Peru, and this week alone provided almost a sampling of corruption cases for the conference. A congressional committee is currently investigating acts of corruption during former President Alan Garcia's administration —including granting pardons to drug traffickers— while investigations continue into possible corruption by former President Alejandro Toledo, and on several members of Congress —including a new scandal, involving congressman Michael Urtecho, a disabled politican in a wheelchair who has allegedly underpaid congressional aids or charged for non-existent aids and is now being investigated alongside his wife for shady financial management of a wheelchair donation program funded by evangelical churches in the United States, in which less than half the wheelchairs donated were in fact distributed by Urtecho's association and there is no trace of the others.