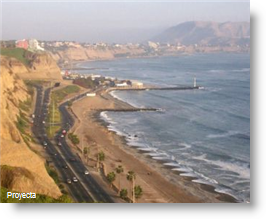 A medium-sized earthquake shook up Lima Monday afternoon, causing concern among the city's nine million inhabitants but no major damage was reported.
The earthquake hit just after 3 p.m. local time and was measured at 5.8 on the Richter scale, according to Peru's Geophysical Institute, IGP.   According to the IGP, the earthquake began at an intensity of 5.6 and increased to 5.8.    The U.S. Geological Survey later said it was a magnitude 5.5 quake.
The epicenter of the quake was some 116 kilometers south-east of Lima, in Cañete. It had a depth of 74 kilometers, according to the USGS.  The quake was felt south to Pisco and as far north as Barranca, 202 km from Lima.
In Lima, telephone lines went down shortly after the quake due to overload, while some rocks fell from the cliffs on the city's Costa Verde drive overlooking the Pacific Ocean.
There were two earthquakes earlier in the day — about half an hour before the Cañete quake, a 4.8 degree quake was recorded in the far north in Tumbes, 18 km offshore from Zarumilla , and a 4 degree quake at 6 am just southeast of Pisco on the south coast.
According to the head of IGP, Alfredo Murgueytio, the quakes were unrelated, except that they were on the Pacific coast.
There have been 200 quakes recorded in Peru in the past year, 70% of which have been on the coast.   Peru is a seismic country located in the Pacific Ring of Fire, which includes the entire West Coast of the Americas and the East Coast of Asia.
The last major quake to hit Peru was in 2007, when a magnitude 8.0 quake caused hundreds of deaths and widespread destruction of infrastructure in the region of Ica, particularly in the port town of Pisco, which also suffered damage from a subsequent tsunami.