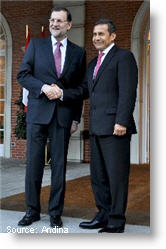 President Ollanta Humala  met with Spain's prime minister Mariano Rajoy on Wednesday and called for Spanish companies to boost investments in Peru, newspaper El Comercio reported.
Humala also had a brief private meeting with King Juan Carlos, who later hosted a dinner at the Palacio Real for the Humalas and the Peruvian delegation, which included Foreign Affairs minister Rafael Roncagiolo.
In his first official visit to Spain, Humala also backed a controversial plan announced by Rajoy, who took office last month, to cut Spain's budget deficit.
"All investments that Spanish companies do are fundamental to generate employment and to get out of the crisis," Humala was quoted as saying. The biggest Spanish companies in Peru include telecommunications giant Telefonica, which is currently negotiating a renewal of its contract, and oil company Repsol.
On Thursday, Humala is meeting Spanish business communities before heading to Switzerland where he will participate in the World Economic Forum.
In Davos, Humala will present his government program, while also looking to attract foreign capital to Peru.