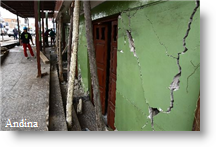 Peru's Premier Juan Jimenez and several cabinet ministers travelled to Arequipa early today, to review damages in the southern region following a magnitude 7.0 earthquake on Wednesday.
Early reports were of rockslides on the Panamerican Highway, and several schools, health centers and homes damaged in the province of Caraveli and the town of Acari, a farming area of olive groves and cotton fields.  Later, reports came in from Civil Defense of three miners killed and two seriously injured at a small mine in Caraveli, and of several people injured much further east in the Lucanas province in Ayacucho.
Phone lines were initially blocked from over-saturation and water pipes have broken in some districts.  Schools have been closed until Monday.
The quake struck 64km off the coast south of Lomas, in the southern Arequipa region on Wednesday just before noon, and was felt throughout the south and in the capital city of Lima.   The Navy's hydrographic and navegation office reported there was no danger of a tsunami.
President Ollanta Humala, who is in New York for the United Nations General Assembly, reportedly is to return to Peru earlier than anticipated in order to review the damage caused by the quake.
There have been 152 tremors this year strong enough to be felt by nearby populations, according to the Geophysical Institute.
Peru's last major earthquake occurred in 2007, when a magnitude 8.0 quake rocked the southern region of Ica resulting more than 500 deaths and serious damage to buildings. The port town of Pisco was virtually destroyed and reconstruction has been a slow process.