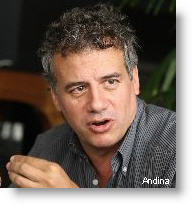 Peru is on the right path to eradicating chronic child malnutrition, according to a representative of the United Nation's Food and Agriculture Organization, FAO.
Luis Lobo, coordinator of FAO's Hunger Free Latin America and the Caribbean Initiative, said that chronic child malnutrition has declined to about 19.5 percent from 30 percent in 2000.
"I think Peru is on the right path," Lobo said, according to state news agency Andina.
Lobo said that FAO sees local and family agricultural production as important to ensure food security. "If a society doesn't recognize that 60 percent, in some areas of the food basket, come from family agriculture, it could have problems in the future if it doesn't support it, if it doesn't strengthen it," he said.
Peru's President Ollanta Humala has said recently that he intends to support small-scale farmers. His government has also declared 2013 "the year of rural development and food security," while he has increased the Ministry of Agriculture's budget to 2.5 billion soles (almost $1 billion).
For Lobo, this shows a "political commitment" to reducing malnutrition in the Andean nation.
FAO says on its website that the Hunger Free initiative aims to eradicate hunger in the region within a generation.