A group of Peruvian writers, led by Nobel Prize winner Mario Vargas Llosa, have signed an open letter against presidential hopeful Keiko Fujimori and in support of opponent Ollanta Humala.
In addition to Vargas Llosa, signatories include Alfredo Bryce Echenique, author of Un Mundo para Julius, as well as Miguel Gutierrez Corea, Abelardo Oquendo, Fernando Iwasaki, Rodolfo Hinostroza and Daniel Alarcon.
"We who sign this letter express our firm rejection of the threat against democracy and the freedom of Peruvians with the resurrection of the Fujimorista dictator," the letter says.
The authors go on to say the administration of Keiko Fujimori's father, disgraced imprisoned ex-President Alberto Fujimori (1990-2000), "marked the most sinister period in the history of our republican governments."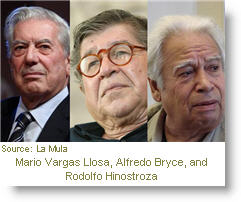 "It was a criminal decade whose disastrous consequences we should not forget," the letter says. "In the last few years, the triumph of Peruvian democracy has been to reject this dictator, the judicial proceedings against its leaders and the legal punishment for the innumerable offences and crimes that it committed."
"The writers who sign this letter come from very distinct places in the Peruvian political spectrum and we have different ideas on the economic and social management of Peru," the letter says. "We believe, however, in the value of liberty, the rejection of criminality and state violence, in the defense of legal order and respect for human rights. We believe that those are the foundations for a just nation."
Alberto Fujimori is currently serving a 25 year prison sentence for corruption and human rights violations, which stem from the internal conflict against the bloody Maoist Shining Path insurgency.
Keiko Fujimori, a 35-year-old congresswoman, has previously said that her father's administration was the best in Peru's history and that she would not hesitate to pardon him. Her campaign posters throughout the Andean highlands prominently show her father's photo behind hers. During the campaign for this runoff election, however, she has backed away from those statements, saying she would not release her father if elected.
Critics of the candidate, such as Vargas Llosa, have pointed to her political team, which includes her father's former adherents and many of his closest member of congress, who rubber-stamped his anti-democratic measures.
"Those that aren't in jail, are surrounding Keiko Fujimori's candidacy," Vargas Llosa told Ideeleradio. "All of them are there, not one is missing. How are we not going to believe that there isn't continuity between papa Fujimori and daughter Fujimori," he added.
While Vargas Llosa is currently supporting Humala, he has in the past been a staunch critic of the left-wing nationalist. In his comparison of electing Fujimori or Humala, he famously said that it would be like choosing between "AIDS and terminal cancer."
In his candidacy in 2006, Ollanta Humala wore red T-shirts and was openly close to President Hugo Chavez of Venezuela.   Five years on, however, he has steared clear of Chavez and donned a shirt and tie.  Now during this runoff campaign, Humala has been working on attracting moderates to his camp by being open to a broader consensus and removing or amending the more extreme measures of his original government plan, and has published a new document on the central guidelines.  Criticized by his opponents of flip-flopping, his supporters welcome his willingness to adjust his program. 
"One of the reasons I am on his team now is because he does change, he changes for good, because he listens," said Javier Iguiñiz, a leading economics professor at the Universidad Catolica.  At the press conference following the technical debate between both political parties last Sunday, Iguiñiz said it was his personal experience that  "where there are arguments, there are reasons, he listens and he changes. That is good, but some people have a problem with that."
While the authors say they will support Humala, they add that their obligation will be to ensure that he does not undermine Peru's democracy.