Funeral treasures from the recent discovery of a Wari leader's tomb in Espiritu Pampa are on show in Cusco until the second week in March, when they will be removed for further restoration work.  The exhibition –The Vilca Lords—was opened this past week during the visit to Cusco of UNESCO's director general, Irina Bokova.
The discovery of the Wari tombs might require re-writing some of the early history of the Incas.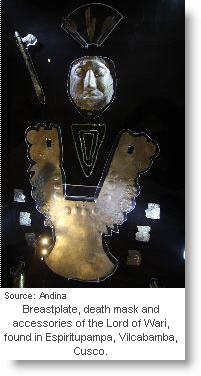 The tombs were found by a team of Cusco archaeologists led by Javier Fonseca, in a 450 m2 burial site that includes a total of 16 tombs.  The team has excavated the Lord of Wari tomb and eight lesser ones, and will continue on site investigations after the rainy season is over.  
The discovery of Wari remains at Espiritupampa was a surprise. A legendary area of Inca ruins in the dense rainforest of Vilcabamba northwest of Cusco, it  begs the question of Wari expansion further south than expected and the need to look again at the Wari (AD 600-1300) and their probable relationship with the Incas.
Espiritupampa, the Plain of the Spirits, was explored briefly in 1911 by Hiram Bingham, who dismissed it as relatively unimportant since he thought he had already found the lost Inca city of Vilcabamba at Machu Picchu. Fifty years later, in 1964, US archaeological explorer Gene Savoy found a massive complex of more than 60 main buildings and some 300 houses with plazas, wells and temples. Savoy is generally credited with accurately identifying the site as the final Inca stronghold, where the Spanish captured and executed the last Inca, Manco Inca II.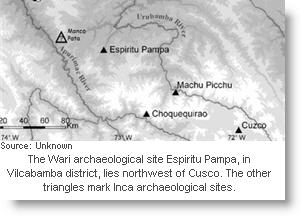 The minister of Culture, Juan Ossio, described the Wari discovery as remarkable, surprising.
"Once, a Dutch anthropologist, Tom Zuidema, told me that possibly the Incas were subjugated by the Wari and provoked a rebellion, and from that rebellion gained their independence and inherited the cultural patterns of the Wari to develop their own political system," Ossio told RPP Noticias.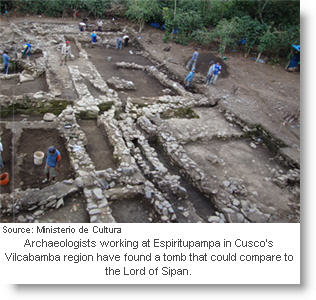 According to archaeologist Juan Julio Garcia, director of the Cusco Culture ministry office, the humidity of the jungle has meant that there is little evidence of textiles and bones other than fragments, but that  judging from the fragments available, the tombs are early Wari. Excavations began in June 2010 and the major finds began to be uncovered in November and December, but were only made public this week during the UNESCO director's visit. 
The exhibition pieces include a silver breastplate, a silver mask, two gold arm cuffs, two wooden staffs covered in sheets of silver, large sequin-like silver pieces, and three necklaces with lapis lazuli, Peruvian turquoise and other stones.  Pottery found includes Nazca designs, which indicates contact with coastal civilizations.
The exhibition is at the Casa Garcilaso, one of Cusco's leading museums and the home where Spanish-Inca chronicler Garcilaso de la Vega was born.