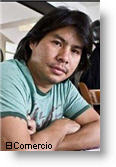 Peruvian police are investigating whether the murder of a photojournalist in Lima over the weekend could be related to a side-business he had buying and selling used vehicles, according to newspaper La Republica.
Luis Choy, a photographer for daily El Comercio, was shot to death outside his home in the middle class district of Pueblo Libre. The attack, which occurred in the middle of the afternoon on Saturday, has set added to a debate in Lima about a lack of security.
While no motive has been confirmed, police said that they don't think Choy's murder was the result of a robbery as the assailants did not steal any of his property. Choy's family said he received a phone call from a potential buyer of a vehicle. That call has been seen as made by the killers, or linked to them.
According to police, illegal traffickers of vehicles have used violence to intimidate individuals who buy and sell vehicles as a business.
The gangs reportedly steal vehicles from other parts of Peru then bring them to Lima where they change the color or other outside details and get new permits, thanks to corrupt officials, and sell them on the informal market.
Police are investigating whether Choy was killed after he refused to work with one of these gangs.
"There are indications of this. It is one hypothesis that we are evaluating," said Nabor Ortiz, the head of a police unit responsible for preventing vehicle theft.