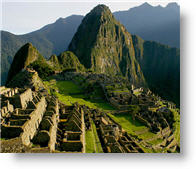 Peru's Ministry of Tourism and Foreign Trade said Tuesday that a recent study supports more than doubling the number of visitors to Machu Picchu, the ancient Inca citadel perched on a mountain top in Cusco region.
Currently, the daily limit on tourists that can enter the Machu Picchu site is set at 2,200. According to state news agency Andina, the ministry's study suggests the citadel can withstand 5,479 visitors a day. This would allow Machu Picchu, a World Heritage Site, to receive approximately 2 million tourists a year.
The study is in direct contrast to the opinion of UNESCO, which has criticized proposals in the past to raise the limit on the number of visitors, arguing that it would be unsustainable and could cause irreparable damage to the site.  The Inca Trail, once open to all, now has a limit on the number of trekkers who can enter the trail per day and all trekkers must do the journey with an authorized trekking agency.
Deputy Tourism Minister Mara Seminario said the increase would have to be accompanied by changes to the management of tourism flows and times for visits, as well as better infrastructure and other improvements.
"The new study has generated a series of recommendations that should be implemented to organize visits, like, for example, the implementation of main and alternative paths, entrances and exits automatically connected and maximum time at sites for taking pictures," Seminario said.
She added: "If turns to visit are organized, that would substantially increase the number of tourists per day. That will depend on the capacity to organize and manage the flow of the visitors by the Ministry of Culture."
Machu Picchu is Peru's most popular tourist attraction, attracting hundreds of thousands of international and national tourists a year and provides a strong boost for the tourism industry.
This month, Peru has been celebrating the 100th anniversary of its rediscovery by American explorer Hiram Bingham. The increased number of visitors to the site following the celebrations in the past few days has forced authorities to turn back some tourists.