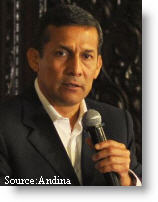 President Ollanta Humala on Friday said the riot that erupted in Lima's main wholesale market "shameful", and called on Peru's courts to quickly prosecute the perpetrators of attacks against police officers.
On Thursday, two people were killed  and dozens of others hurt when rioters intermingled with protesters and clashed with police on the streets outside the La Parada market, located in the La Victoria district. Videos showed police officers pummeled by rioters, who were throwing stones and carrying sticks, while some officers fired shots from handguns.
The riot broke out when police laid concrete barriers preventing vehicles from entering the market. Lima's municipality, led by Mayor Susana Villaran, has ordered the old market to be closed and the 774 wholesalers and shopkeepers moved to a new locale located in the Santa Anita district in east Lima, which has direct access from the Carretera Central, the main highway supplying Lima with produce from the central Andean highlands and the jungle.
La Parada market, a 3.50 hectare area which was modernized in 1945 and supplies some 400 private and municipal markets in metropolitan Lima, has been described as a "time bomb" as it  is dangerously overcrowded and lacks safety measures in the event of an emergency, such as a fire or earthquake.
The larger wholesalers have already been moved successfully to Santa Anita, but many of the smaller stall holders and middlemen have opposed the city's plan— on the drawing board for more than 10 years— and say they want to buy the La Parada real-estate to update the infrastructure and modernize the market.
The shopkeepers deny that they provoked the riot.  According to Gustavo Guerra Garcia of Mayor Villaran's political Party, Fuerza Social, members of the pro-Shining Path movement Movadef had been identified as participating in the riot. 
Both the Minister of Interior, Wilfredo Pedraza, and Mayor Susana Villaran are expected to testify on the events in Congress on Monday.
President Humala, in Peru's southern city of Arequipa on Friday, called on Peru's courts to quickly prosecute the rioters. "I call on the prosecutors to try these wretched people, they couldn't have more evidence," Humala said, in comments broadcast by local television stations.
Humala went on to say that the government has to strengthen the police force, and added: "As a Peruvian, I'm ashamed of this situation. As a father, I'm ashamed of this situation."