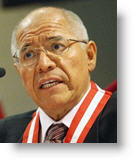 Peru's challenges in cracking down on money laundering is largely due to a lack of coordination between its national police, the financial intelligence unit, UIF, and public prosecutors, according to the president of the judiciary, Cesar San Martin.
He also said the three institutions lack personnel experiences in investigating financial, banking, accounting and economic material.
To better address the issue, San Martin is proposing an "inter-institutional alliance," state news agency Andina reported.
"If we don't have well-structured research protocols and professional bodies especially trained to managed the computer systems… we can't make progress," San Martin said.
In the Judicial Branch, San Martin said there is a demand for better qualified judges and judicial assistants.
"We must be more effective and efficient in the courts, and as impartial and objective judges, to confront the crime that if not stopped now will become unmanageable," he said. "And the problem of the country's governance and democratic security will be on the table with all the damages that it will bring."