Authorities in north-eastern Peru's Loreto region met on Friday to analyze options aimed at restraining informal transportation on the region's waterways after a ferry sank in the Amazon River this week, state news agency Andina reported.
"The idea is to agree on immediate actions and disciplinary measures to improve transportation security on Amazon rivers to help save lives," the head of the region's civil defense, Robert Falcón, said.
On Wednesday, a ferry carrying more than 200 people sank in the river after leaving port at Iquitos, the country's major jungle city.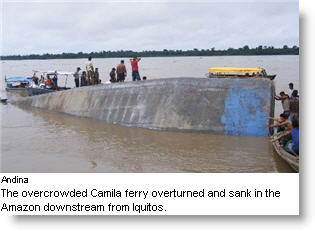 According to daily Peru. 21, an official in Iquitos said 146 people were formally registered on board the Camila ferry when it left the port. However, authorities have counted more than 228 survivors from the accident.
RPP radio station reported that there were an estimated 280 people on board Camila, although the ferry only had capacity for 180.  Overcrowding and overloading are common among the informal ferries that ply the river between settlements.
On Friday, authorities had recovered at least 22 bodies from the river.